Auld Valves - trusted by the world's engineers
Auld have been supplying pressure control solutions for many years, and our name is recognised around the world. Our products provide reliable, cost effective performance in many different applications and we have gained a reputation of providing quality products with a proven track record.
We have users of our products in the following countries...
Abu Dhabi, Ascension, Australia, Austria, Azerbaijan, Bahrain, Bangladesh, Barbados, Belgium, Botswana, Brazil, Canada, Chile, China, Cyprus, Democratic Republic of Congo, Denmark, Egypt, Finland, France, Germany, Ghana, Gibraltar, Greece, Guinea, Guyana, Hong Kong, Hungary, Iceland, India, Indonesia, Iran, Iraq, Ireland, Israel, Italy, Jamaica, Japan, Jordan, Kenya, Korea, Kuwait, Lesotho, Lithuania, Madagascar, Malaysia, Maldives, Malta, Mauritius, Monaco, Mozambique, Namibia, Netherlands, New Zealand, Nigeria, Norway, Oman, Pakistan, Peru, Philippines, Poland, Portugal, Qatar, Romania, Russia, Saudi Arabia, Serbia, Singapore, South Africa, Spain, Sri Lanka, Sudan, Swaziland, Sweden, Taiwan, Tanzania, Thailand, Trinidad, Tunisia, Ukraine, USA, Vietnam, Zaire, Zambia, Zimbabwe
... and of course all over the UK.
Wherever you travel, you are never far from an Auld valve!
Auld goes to Oxford!
Researchers at The Osney Laboratory, Department of Engineering Science, University of Oxford have recently installed a Standfast pressure regulator to control the working pressure of an experimental rig for studying combustor-turbine interactions in gas turbine engines.
The valve regulates the flow of air from two 400 psi tanks (each containing 1 tonne of air) which they are emptying at around 5kg/s through their facility. As the tanks empty the inlet pressure steadily drops from the initial 400 psi down to below 200 psi, but they want to maintain a totally constant working pressure in the test section over the short run time of around two minutes.
They were initially looking at a control valve with a PID controller but after evaluating a large number of offerings selected the Standfast pressure regulator based on its simplicity, ease of installation (no setup required), high flow coefficient (which allowed them to drop the line size from six to four inches compared to the PID control valve options, thus reducing bulk and cost), quick delivery and value for money.
The Standfast was delivered on schedule and from the very first test run it performed exactly as predicted with a near perfect first-order transient response: a slight overshoot lasting one or two seconds followed by a totally flat working pressure for the duration of the run.
Overall the researchers are delighted with their purchase, and are looking forward to publishing the results of their work in the coming months.
Following the successful implementation of the Standfast, two further valves have been supplied for use in similar research projects.
Standard specials!
The latest consignment of specially modified Standfast Surplus Valves has just been despatched to the end users in America, manufacturers of portable power generation and compressed air equipment.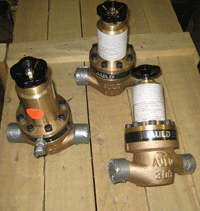 These back pressure controllers have been fitted with sealed weatherproof bonnets and handwheel adjustment to allow easy and regular changes to the valve settings to suit the varying operating conditions, and have been fitted as original equipment since 2006.
We are always willing to consider modifying our standard products to suit individual requirements. If you think we may be able to assist you in this way then please send us details of your application.
Remember we are practical engineers as well as valve manufacturers and we are always willing to consider unusual or new uses for our products.
Standfast reducing valves - even more choice!
Responding to requests from a number of our customers, we have decided to increase the range of cast iron Standfast Reducing Valves and Surplus Valves to include sizes 25mm, 32mm and 40mm NB, with flanged connections to suit customers′ requirements. These smaller cast iron valves provide a cost effective solution for pressure control applications for low pressure steam, water, air and oil services , adding to the existing range of sizes from 50mm to 300mm NB. They are built to the same strict quality standards as all of our valves and will provide many years of reliable service. All we ask is that they are checked periodically for wear or damage and are serviced annually in accordance with our recommendations. There is no need to return the valve to us as they are designed in such a way as to be easily maintained on site without the need of special tools.
These additional valves will be available with all the trim and sealing variations as the rest of the range, as well as options including sealed bonnets, solenoid operation and air loading. Standfast valves are well known throughout the world for reliability, ease of maintenance and ready availability of spares. Full product support is offered for the life of the valve, with assistance and advice readily available from our technical department.
We would be pleased to hear from you if these valves are of interest and would welcome your enquiries. If you have a particular application that you feel we could assist you with, again please contact us. We are always willing to listen and we will do all we can to help, even to the extent of making a one-off special if it is practical. Remember, we are engineers as well as valve makers!
Healthy cigarettes?
Last summer we were asked to supply a number of stainless steel Standfast Reducing Valves to control steam pressure in a tobacco processing plant. Because of the danger of contaminating the tobacco product we were unable to use seals made from PTFE or Viton so an alternative had to be found. The solution was to use PEEK material ( PolyEther-Ether-Ketone ), an inert material suitable for use in steam applications, so we had seals and piston rings specially made to our own designs. These were subsequently fitted to the Reducing Valves and they are now giving satisfactory performance. We have since had a repeat order. So now cigarettes are slightly less poisonous!
We are always ready to look at new or special applications, using the wealth of many years′ knowledge and experience to provide innovative solutions to pressure control.
We are small enough to care, and big enough to cope!
Naval traditions
We have recently completed an order to supply 12 off 50mm Standfast Surplus Valves for fitting to the fresh water supply systems for the new Type 45 destroyers being built on the Clyde, the most advanced warships in the world.
The valves are designed to ensure the water supplies are kept at a steady pressure despite variations in load, and perform an important task in an important system, ensuring fresh water for domestic services throughout the ship.
Auld have a long history of supplying valves not only to the Royal Navy, but also to many of the world′s Navies.
Used in front line vessels, as well as support ships and shore facilities, our valves are known for their long, reliable working lives and ease of maintenance. We are pleased to play a small but important part in helping to ensure the "Senior Service" is able to continue its proud tradition of protecting and ensuring the safety of not only our own country, but also that of many others around the world.
Taking the heat and the pressure off is our speciality!
We recently won an order to supply an 80mm x 300mm A100DS Combined Desuperheater and Reducing Valve along with an A100 PG Control Valve Pneumatic Control Valve and a high capacity 200 x 250mm Double Action Safety Valve to a power station in Lithuania. The order was won in the face of competition from a number of sources, not only from the commercial advantages we offered, but because we were prepared to adapt our standard valves to suit specific site conditions and technical restrictions. Once again, we found ourselves producing a "standard special". This has been one of Auld′s strengths for many years and has gained us an enviable reputation as the company to turn to for help with difficult or restrictive applications. We do not promise to be able to help everyone but we will try very hard to find a solution.
This equipment supplied is to regulate steam at pressures of 40 bar at 450°C, reducing it safely to a more manageable 4 bar at 250°C. We have been manufacturing equipment like this for many years and examples can be found in many parts of the world. Their robust construction, ease of operation and, of course, reliability, have won the approval of engineers in many different industries where demanding conditions have required the use of good quality equipment, designed round good engineering practice and built by engineers who take a pride in their product.
We are confident that this equipment will provide many years of service and will justify the choice of Auld as the preferred supplier of this important piece of plant.
Nuclear valves
We have recently taken an order to supply two sets of combined 50mm Desuperheater and Reducing Valves to control the supply of high pressure superheated steam at Wylfa Nuclear Power Station. These units will replace the two current installations which have been in continuous service for the past 11 years. The new valves will feature full electronic control for more accurate regulation and enable them to be easily integrated into the Station control systems.
Ancillary equipment also being supplied includes high pressure cooling water reducing control valves, also with full electronic controls.
Auld have been supplying control and safety valves to the UK nuclear industry for many years, helping to ensure the country has a reliable, clean, and home based source of energy both now and for the future.
South Africa
We have recently completed an order to supply 28 off 8" x 10" Double Action Safety Valves to the South African electricity supply company Eskom for Casmen Power Station, along with 7 off 3" x 4" Double Action Safety Valves and 14 off 80mm x 125mm SuperVigilant Safety Valves.
Some of these valves were to replace those supplied over 40 years ago while others were for new installations. The valves were chosen for their proven reliability over many years′ operation, their ease of maintenance and the ready availability of spares.
Eskom is committed to the upgrade of all their power stations to supply the growing demand for power in South Africa, and Auld Valves Ltd have a proven track record in supplying specialised valves to suit individual requirements all over the world.
Old, but still going
Earlier this year we asked to refurbish one of our 4" Double Beat Reducing Valves originally supplied 45 years ago to regulate the water pressure in the fire mains of a number of 19 storey high rise flats.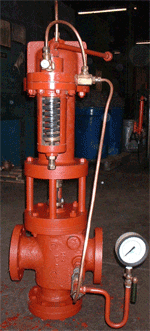 While the valve still operated, it did require cleaning as the build up of dirt, scale and rust over the years caused the valve to lose some of the accuracy of control. After shotblasting, the main and pilot valve chests were re-machined and new seats and lids were specially manufactured and fitted. Many of the original parts only required refurbishing and cleaning which saved considerable time and expense. After rebuilding and testing, the valve was finally coated with red oxide primer and fitted back into position (not as easy as it sounds!).
It is now operating as well as it did when new. Indeed, it is now too good, as the original pipework remained untouched and cannot always cope with the flows now passed by the valve.
We are always pleased to see the return of our older products and will always try to return them to their former glory if at all practical. There are many of these classic valves still in use all round the world and we regularly have requests for spares, many of which we are able to supply at short notice. Our only problem is learning how to build and test them, as the old hands who did know have long since retired!